Anne Thomas
Anne's paintings and sculpture are prayerful offerings, celebrating the inter- being of all things; the wild beauty and geometry of nature, the ever changing balance of sacred elements; inviting centred awareness and a deep reverence for life.
Website: shiningedge.co.uk
Email: annethomas23@hotmail.co.uk
Instagram: @shiningedgearts
Diary 2024
Turning of the Tide © Anne Thomas 2021
Calendar 2024
Rainbow Torus © Anne Thomas 2022
Diary 2023
Offering Goddess
© Anne Thomas 2020
Mandala Journal
Mandala Journal cover
(artwork by Anne Thomas)
Wild Roses © Anne Thomas
Earth Ki © Anne Thomas
Spiral of Life © Anne Thomas
Heavenly Ki © Anne Thomas
Cletwr Community Mandala © Anne Thomas
Affirmation © Anne Thomas
Beneath the Waves © Anne Thomas
Diary 2022
Dreaming Into Stillness
© Anne Thomas 2019
Calendar 2022
Wild Roses © Anne Thomas 2020
The simple beauty and exquisite scent of wild Roses are the crowning glory of a Midsummer's day; delighting the senses and gladdening the soul. Heart-shaped petals scatter like confetti along hedge-lined paths, falling from trailing stems armed with perfectly fierce thorns, teaching us caution as we reach to pluck the delicate blossoms. It's well worth a little bloodshed to receive the blessing of Rose medicine, though, which is truly a wonder in the world of healing teacher plants. Cooling, calming, clearing, harmonising, Rose offers relief for inflammatory conditions, is restorative, rejuvenating, supports immunity and is a tonic for heart and mind.
The archetype of Sacred Mother is embodied by Rose: Within her fragrant healing blooms, softly sensuous, symbolic of Love, beauty and perfection; Within her sharp thorns, that are the sword of the Warrioress, the strength to withstand attack; protecting the vulnerable and piercing complacency.
Celebrating the Wild Roses of the British Isles © Anne Thomas
Diary 2021
A Symphony of Spring © Anne Thomas
The miraculous regeneration that occurs every spring never ceases to astound and enchant me. As the season unfolds, each succeeding leaf and flower opening is a cause for celebration - and an affectionate reunion with dear friends. Perhaps my all time favourite combination of wild-flowers, is that of Bluebells, Red Campion and Greater Stitchwort, especially alongside the spiralling bracken fronds. This year, a pair of blackbirds nested right outside my studio door, so their coming and going wove into my artwork, along with Wren and a gorgeous grandmother frog who frequented the tiny pond in our polytunnel, leaving a legacy of tadpoles. Beneath the plants and animals of this painting, is an infrastructure of hexagonal geometry known as the 'Flower of Life' - an ancient patterning describing all life as an inter-dependent, inter-connected whole. In these uncertain times, a poignant offshoot of 'waking up' to all we stand to lose, is a sharper appreciation of all we truly value; bringing the things that matter in life into clearer focus. Gratitude leads to a much more attentive presence, making it easier to live in right relationship with ourselves and all our plant, animal and mineral relations; returning us to wholeness, belonging, peace.
A Symphony of Spring: Unfurling with Song-sweet Delight into Fragrant, Heartfelt Optimism © Anne Thomas 2019
Diary 2020
Spiral of Life © Anne Thomas
Diary 2018
Beneath the Waves © Anne Thomas
Many Hands Make Light Work -
Cletwr Community Mandala
Directed by Anne Thomas
This mural was created communally, to be sited outside a community-run shop, cafe and community hub that is flourishing on the site of a former service station in west Wales. The mandala celebrates the many benefits of this initiative: how we can work together to regenerate our local communities. Included in the design are notable wildlife species found in the immediate area. The underlying geometry reflects the four elements and the turning seasons.
Seventeen people contributed artistically to the painting over a three month period – the youngest aged 4 and the eldest 78. Some people joined in for an hour, some for much longer. We worked quietly through the winter, gathered around the circular pattern, sharing stories, drinking tea and offering ideas as the design developed. In this way it was an organic process, which evolved from my initial concept, to unfold and expand in response to the input of all involved.
The whole painting process was recorded using stop frame photography and edited to create a short film, with a soundtrack specially composed. You can view the film 'The Birth of a Mandala' at youtu.be/DymR4BRjAAs
You can read more about the project and view a map to find the mural at www.peoplescollection.wales/items/515349
Many Hands Make Light Work - Cletwr Community Mandala Directed by Anne Thomas 2016
Diary 2017 - Festival pages
Snowdrops © Anne Thomas
Celandines and Violets © Anne Thomas
May © Anne Thomas
Midsummer © Anne Thomas
The Gift of the Grain © Anne Thomas
Returning © Anne Thomas
Full Moon © Anne Thomas
Affirmation © Anne Thomas
Diary 2016
Ocean Mandala
© Anne Thomas
Diary 2015
Earth Mandala © Anne Thomas 2013
A Portal of Possibility
© Anne Thomas 2013
Contributors Showcase
A Cloak of Listening
© Anne Thomas 2020
Fleeting Brilliance © Anne Thomas 2020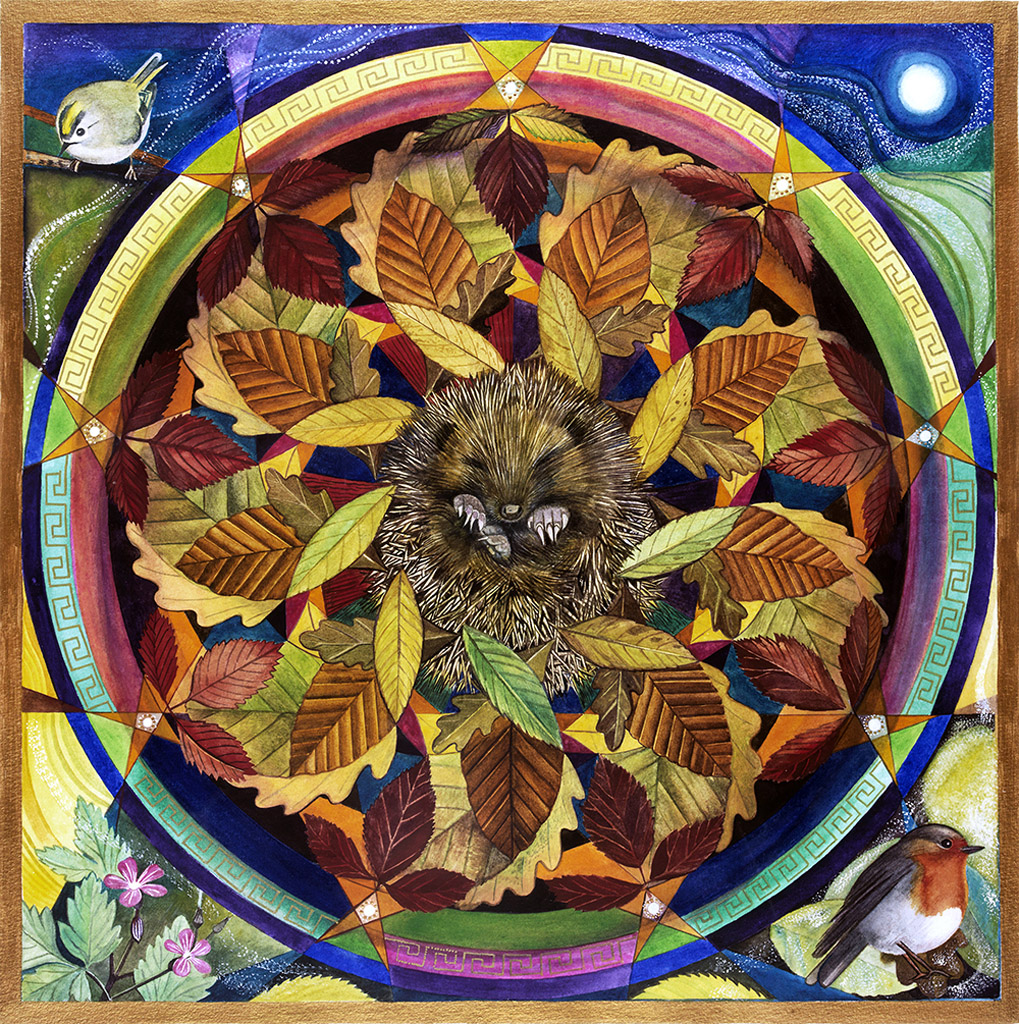 Dreaming Into Stillness
© Anne Thomas 2019
Emerging © Anne Thomas 2018
Affirmation © Anne Thomas
Beneath the Waves © Anne Thomas
Celandines and Violets © Anne Thomas
Earth Ki © Anne Thomas
Heavenly Ki © Anne Thomas
Maiden of May © Anne Thomas
May © Anne Thomas
Midsummer © Anne Thomas
Ocean © Anne Thomas
Snowdrops © Anne Thomas
The Gift of the Grain © Anne Thomas
Connection
© Anne Thomas