Lindy Brook Tweed
I love supporting our beautiful planet in many creative and practical ways. For the past few years I've co-created Breathing Space at Stanmer Organics near Brighton – a semi wild garden which provides a quiet space for visitors to connect with nature.
Email: lindybrooktweed@hotmail.com
Diary 2022
Exotic Ash Flowers © Lindy Brook Tweed 2020
Cut off for now from my physical relationships,
I take a solitary walk across the Downs.
I'm isolated but my lifeline is the wind, sun and trees.
My spirit reaches for the sky.
Cached within the circle of trees I gaze at their trunks
covered with signs of struggle for growth .....for life.
My offering to Ash is a raft to connect with the rest of the world.
I know it will take me to where the black buds
are quietly making exotic flowers
and we'll sail on to the promise of the keys.
One key will open the door to a world where all humans value all life,
From the tiniest of tree seeds to the smallest exotic tree flower.
We will stop in awe and reverence.
My spirit will reach for the sky.
Ash, Rocky Clump, Stanmer © Lindy Brook Tweed 2020
Diary 2021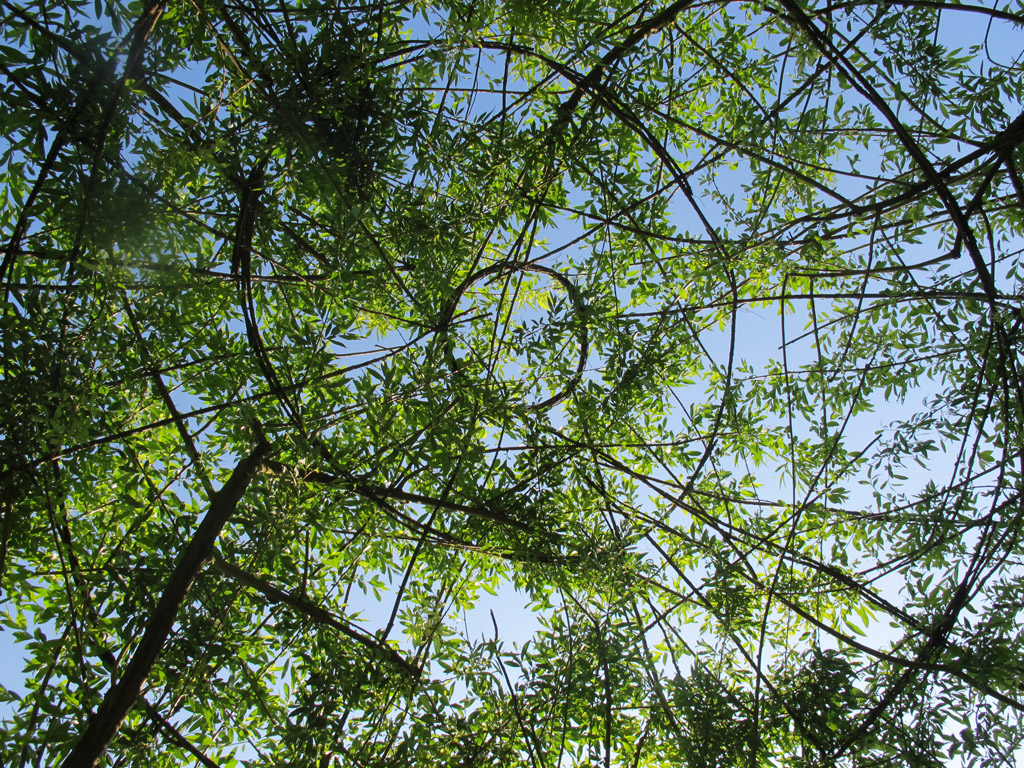 Willow Canopy Breathing Space
© Lindy Brook Tweed 2019
The heat in the garden is searing and as I step into the shade of the Willow Bower the air is different – cool, sweet, energising.
Shadows from the leaves dapple the ground as a slight breeze stirs them. I feel held by the circle and comforted by the familiar shrines in their directions.
Air; Fire; Water; Earth.
I lie down in the centre and look up into the leafy canopy. Small birds, foraging for aphids hop from twig to branch. The song of a thrush drifts through the hot air outside.
I feel a deep connection with the Earth under me – the layers of flint, chalk – the bones of my ancestors.
I have a sense of how precious this land is, supporting a myriad of life for millions of years.
Shady Bower, Breathing Space © Lindy Brook Tweed 2019
Calendar 2021
Winter Bower, Breathing Space
© Lindy Brook Tweed 2018
Diary 2018
Autumn Equinox Offering © Lindy Brook Tweed 2015
Contributor Showcase
Entrance to Shelter
© Lindy Brook Tweed 2014
General view - Bspace © Lindy Brook Tweed 2014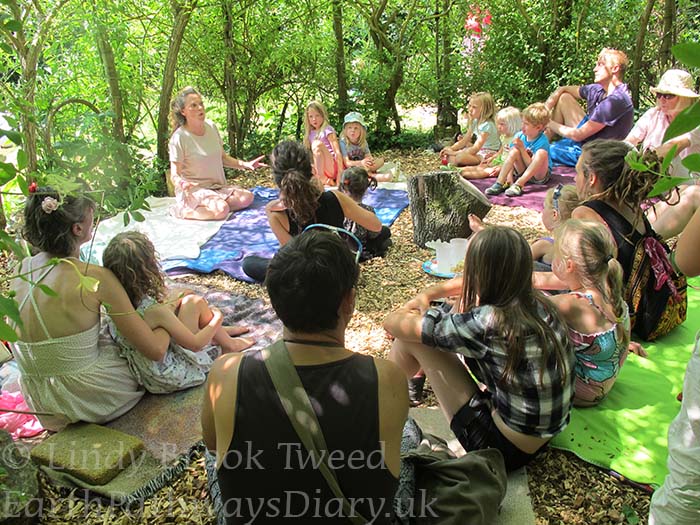 Story Telling in the Bower © Lindy Brook Tweed
Diary 2023
In Stanmer Park near Brighton there is a poly tunnel that belongs to Wild Flower Conservation Society, Brighton and Beyond. On Tuesday mornings we volunteers prick out and pot on small wild flower seedlings which are grown on to become semi mature plants sold to the general public, local wild life groups and local councils. John Gapper aka the Green Man of Sussex has had a love of wild flowers for the past 45 years and started the project in the council nursery nearby. In 2018 this nursery was turned into a garden centre with no space for wild flowers. However our local ranger, Sally, rescued the project, sought funding from Southdowns National Country Park plus land donated from Brighton & Hove Co. Council in order to start off WFCS and our chair person, Linda, successfully applied for charitable status. We happily give our time to this work as we know we're slowly beginning to enhance and increase the tiny amount of wild flowers (15%) that have been saved from damaging agricultural methods and habitat loss. Many of the plants such as Horseshoe vetch provide nectar and food for some rare and endangered species of butterflies and their caterpillars such as the Adonis and Chalk hill blues found on the Southdowns. The work is both vital and rewarding as we work to knit together and enlarge the little patches of wild flowers in and around the towns along the South coast of West and East Sussex and beyond.
Wild flowers © Lindy Brooke Tweed 2021
Diary 2018
I sit in the Willow Bower in my rainproof poncho which covers me completely. Inside I feel dry, warm and cosy. Around me I hear a steady dripping from the leaves. The smell of the rain connects me to the Earth as it sweetens the Air. The roots beneath me seem to sigh as they accept this offering of nourishment. The gift of life.
After some moments I get up and walk slowly, feeling each step making contact with the wet grass as I move towards the Honeysuckle bowed down by rain. Then on to the May blossom where each tiny white flower holds a shining diamond. The corrugated leaves of the Hornbeam, newly unfurled, create tiny rivulets for each droplet before it cascades downwards. Every drop of rain I see on each plant, leaf, flower and tree holds a glistening orb before falling to nourish the Earth.
I follow the path carefully, slowly, through the Beech archway and back to the Willow Bower to sit a little longer feeling energised, calm, relaxed and at one with my surroundings.
Rain at Breathing Space © Lindy Brook Tweed